Writing and illustrating a storybook is not as simple as it used to be!
In today's world, with the realm of global technology at our fingertips, digital versions are apparent, and print versions are still a need; therefore, multiple file formats need to be created (if you want to reach all the available markets "out there").
So hold on to your rocket, there's a LOT to do to get out into digital space (and the world of print too, of course)! In order to play ball with all the big-guns in the market place, JNP's Jane & Jake's Adventures to Awesome will be converting each book into the top 4 main file formats (which cover most store outlets):
PRINTED
[CMYK Offset: Printing]
Our Business Plan originally outlined digital book development/distribution. But after continued market research, results show that kids still want tangible books too. Okay, so I added that back into the mix. JNP self-published on the initial phase (for marketing research several years ago), and we plan to print soft-back books again (initially; and hard-back versions are listed for future phases). Here, we are developing our digital files in a two-page readers' spread, which in turn, prints (assembled as signatures and bound accordingly) as an open book. This fixed design format allows the most control of the page design over most formats (there is a digital fixed-format which we will not be creating).

EPUB
[Electronic Publication: RGB]
The .epub or OEBPS format is an open standard for e-books created by the International Digital Publishing Forum (IDPF). It combines three IDPF open standards: This file format is used by Barnes & Noble's Nook.
MOBI
[Mobipocket: RGB]
The Mobipocket e-book format is based on the Open eBook standard using XHTML and can include JavaScript and frames. This file format is used by Amazon's Kindle.
The JNP Project's [digital] storybook adventure series content will be classified as image-rich reflowable eBooks.
In the Kindle example below, we tested how the "simplest" of eReaders would view our content, and how black and white images would appear. The exercise was successful; we were satisfied with the readability of content; the ability to change type sizes and fonts; and the flow of the images throughout the story content. The color devices would be quite a pleasing reading experience if the black and white version worked this well.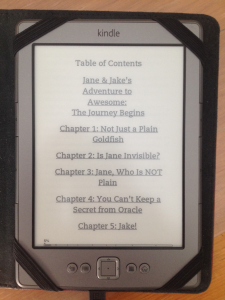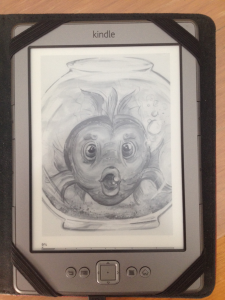 iBOOKSTORE
[iBooks Author and ePub: RGB]
Apple's book distribution network for interactive books is a market we definitely want to be in. This file format has a few more features then the other standard digital format options, e.g., sounds/music and linked video along with screen fingertip enlargement. This format also has a page design that is closest to a fixed-printed book layout. Here we are "testing" the appearance of a cover design (preliminary development). We liked it, and are moving forward.

Process and procedure is so important in the development and conversion of all these different file formats. We are focusing on the first eleven (11) adventure books—approximately 125 pages, 10 chapters, and 50 full color illustrations each—and with four (4) version files of each book, we have to stay on top of all processes and keep organized!
In future posts, I'll specifically speak on each individual file format and the process to organize and create one. More to come…

~  ~  ~ 
Note: This Blog is a chronological diary of a start-up-company—The JNP Project's Journey—reading it from the start, will broaden your understanding of the path we are on, together, and hopefully, positively influence you in some way!
 FYI Tip: Specifications Sources:
• The printed book– Excellent specifications source:
http://www.harvard.com/images/uploads/diy.pdf
• eBook specifications: http://en.wikipedia.org/wiki/Comparison_of_e-book_formats
http://ebookarchitects.com/learn-about-ebooks/formats/
https://www.bisg.org/docs/FieldGuidetoFXL_v1.1_Final%20for%20Publication.pdf