I AM. I CAN. I WILL. EMPOWERED.
~ What if there was a children's book series that not only instilled positive values but did so in a way that actually rewarded them for carrying through on what they learned?
~ What if it, through reading it, they became self-motivated to learn even more?
~ What if it was a perfect fit for all of your grade school children, regardless of their specific age?
~ What if these books came with a bevvy of available resources to help guide parents and educators through the process of helping kids build their self-esteem?
~ What if it actually, truly made a difference in their self-confidence?
~ What if it was the key to empowering them to be better versions of themselves?

When I first interviewed Dona Rudderrow Sturn, the Founder of The JNP Project, I expected to chat with the creator of a cool new children's book series who was excited to share her work. I was blown away to discover so very much more.
Dona is a woman passionately dedicated to promoting social good through this movement that she's made it her life's work. Dona has fully invested herself in the incredibly well-researched design and promotion of this project. In just several months, she has guided The JNP Project from the first introduction of its products to the the thriving rescource center it is now. Drawing from her own background of being raised in a very bad neighborhood and working hard to provide a better life for herself and her four boys, she is committed to empowering children and helping them develop their core values.
What is the JNP Project?
The JNP Project is a Self-Esteem Discovery Movement for children of all ages. Their goal is to do good through building confidence and future leaders. Following their vision of "I am. I can. I will. Empowered.", the commitment to developing healthy self-esteem is promoted through empowerment tools for you and your children.
Currently in 16 countries, the JNP Project is a movement because they are actively working to raise a generation of confident children, focusing on school-age children, as it has been shown that core values are already formed by age 6. In assembling and test-marketing products (story lines, website exposure, toy design development and accessories), they relied on a team of astute international professionals to create and develop content for this amazing project. Psychologists, educators, counselors, teachers, reading specialists, children's programming directors, eBook publishers, parents and young adults all serve on the Advisory Commitee.
What does The JNP Project offer?
The movement has created a toolbox of resources for adults to help children develop a their "inner-awesome", a belief in themselves and the unique value they add to this world.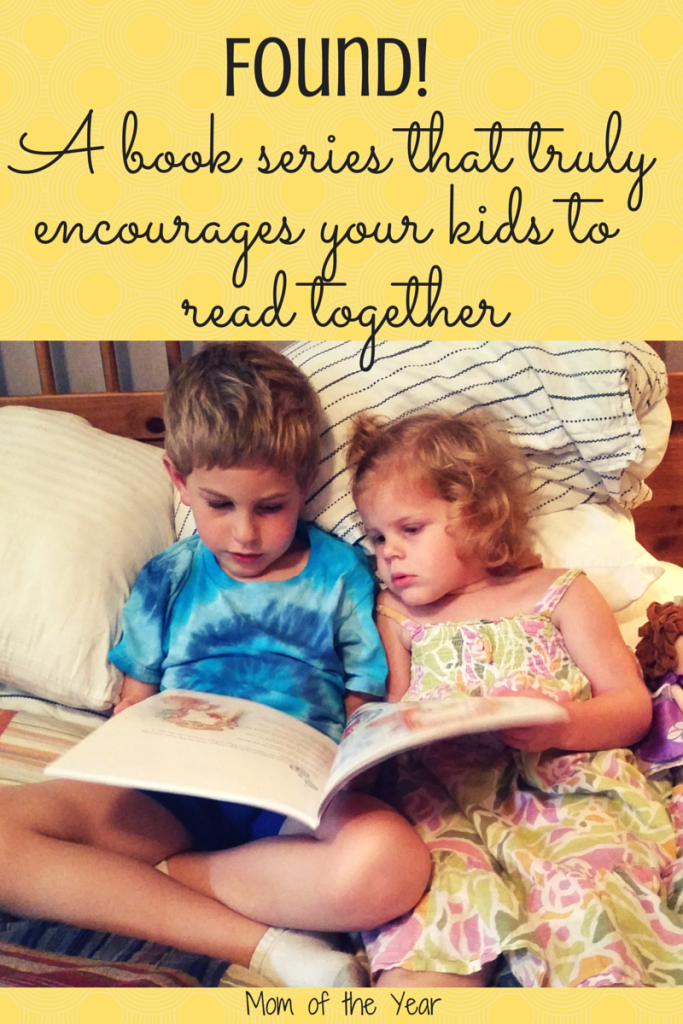 1) First and foremost, the JNP Project focuses on an interactive esteem-building series for kids. The core of the project is a series of 31 interactive adventure stories featuring Oracle (a magical orange goldfish), Jane & Jake, and their friends. The World of Jane Not Plain™ features characters with whom both boys and girls can identify. The really cool thing about this book series is that the lead character Jane in Jane NOT Plain® is developed to be a "blank canvas" for each child to colorize as she or he "sees" Jane (and her friend Jake). This allows your children to choose the characters' external colors (called "Your Face of Traits.") while Jane and her cast of friends teach your child about his or her inner colors—the 10 core value character traits, or "inner awesome"!
Each book is focused on one of the core values (Kindness, Truth, Harmony, Forgiveness, Love, Giving, Determination, Strength, Character, and Compassion) and is geared towards children ages 5-12. They are written at a higher reading level, designed to engage older readers and encourage parents to read the books with younger children to help them understand and develop the concepts presented. There are loads of illustrations to keep the interest of younger readers as they are listening to the book. This series would be a perfect fit for school reading programs in which older students read to younger ones. And I'm eager for my son's reading skills grow so he can read more of the stories to my daughter.
Every book includes an Oracle Ditty, a short story or poem, that can be downloaded as a song to help reinforce the lessons in the book. There is also a color-coded "Pearl of Wisdom" children can collect as they complete each book and then earn a Circle of Power badge at the end.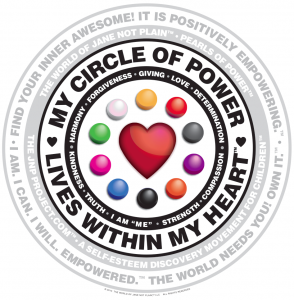 As my daughter said, "Mommy, I want this cute fishy to teach me more!" 😉
Each book also includes parent kit, which provides wonderfully helpful guides to parents to use these books to encourage learning at home. These kits are especially handy during these summer months, when you want your children to continue learning while keeping the fun flowing!
Good news for you, readers? One set of the Prequel Story and the first two books (Kindness and Truth) are being given away below! As long as you are 18 or older and live in the continental United States, you are eligible to win! The giveaway will close 7/1/15 at 5:30amET, so be sure to enter before then!
The first resource is an esteem-tools website for for parents, teachers, counselors, in-home educators and caregivers. This site offers tools designed to guide them in building self-esteem through fun and adventure. Support is available through online forums, Q & A with professionals, webinars, new downloads available monthly, and JNP gear, toys and accessories.
2) Secondly, The JNP Project offers an esteem-tools website for for parents, teachers, counselors, in-home educators and caregivers. This site offers tools designed to guide them in building self-esteem through fun and adventure. Support is available through online forums, Q & A with professionals, webinars, new downloads available monthly, and JNP gear, toys and accessories.
3) Finally, there are educational resource kits available to extend the learning both in and out of the classroom. The lesson plans are excellent fit for homeschooling, special programming, or offering additional support at home over the summer months. There is curriculum available for grades 1-4. Check out the website to learn more about the available resources.
Why does is this movement so important?
When talking with Dona, she shared a startling stastic from Jack Canfield, author of Chicken Soup for the Soul. He cited a survey of 1000 parents and 1000 teachers in which 72% of the parents said the teachers were responsible for developing children's self-esteem, while 78% of the teachers said the parents were responsible.
There is a gap. And our children are the ones suffering.
Instill self-esteem and confidence in them must happen. Teaching them that they can, they are and they will is a gift of empowerment that they can carry with them through a lifetime. Investing in this mission and goal is so incredibly valuable.
What can you do?
Aside from supporting The JNP Project and checking out the available resources and books for your children, take this fun "Boomerang It! Challenge". Go HERE and make a physical boomerang and then go do an act of kindness for someone else. Pass the boomerang on to them and keep the goodness flowing. Want to see how far your boomerang flies? Go record your tracking number and your good work online and follow along to see where it goes!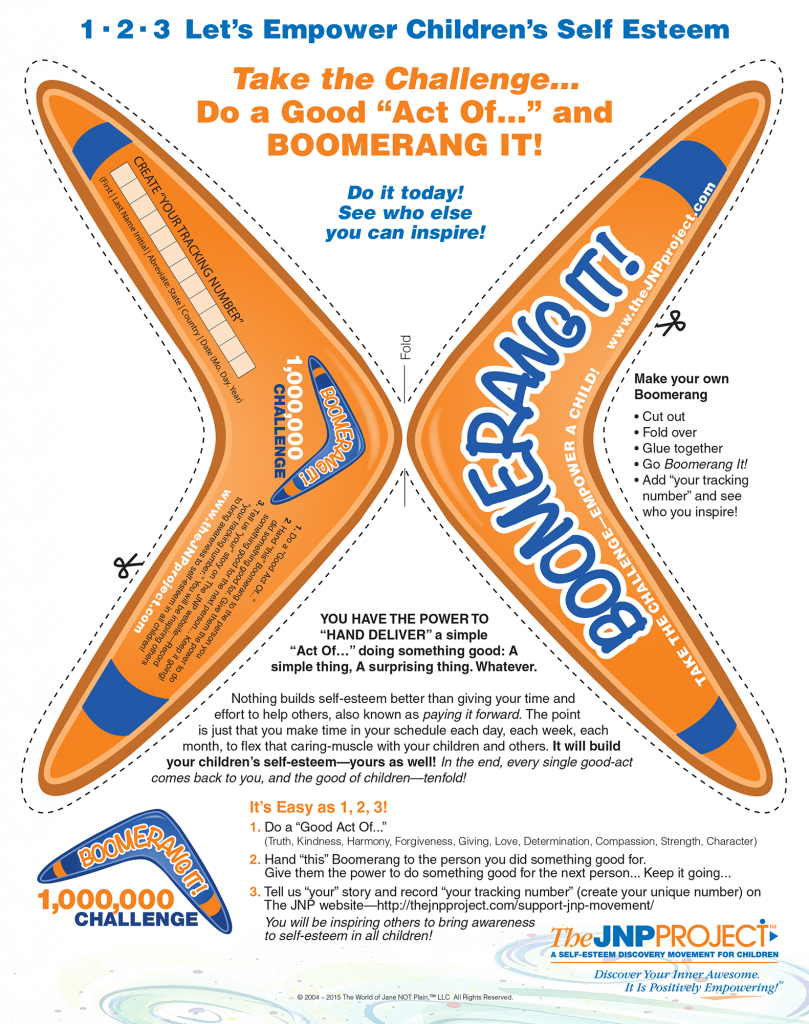 The JNP Project is good, friends. One with a gorgeous heart and mission. Don't forget to enter for a a set of the books below, and check out the website further and use it to grow the self-esteem in your own home.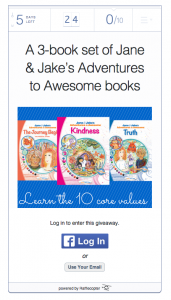 ****Thanks to The JNP Project for sponsoring this post so I could share their work with all of you. That I am so impressed by this movement is 100%!****
———————
Shares:
https://www.pinterest.com/pin/43910165093647439/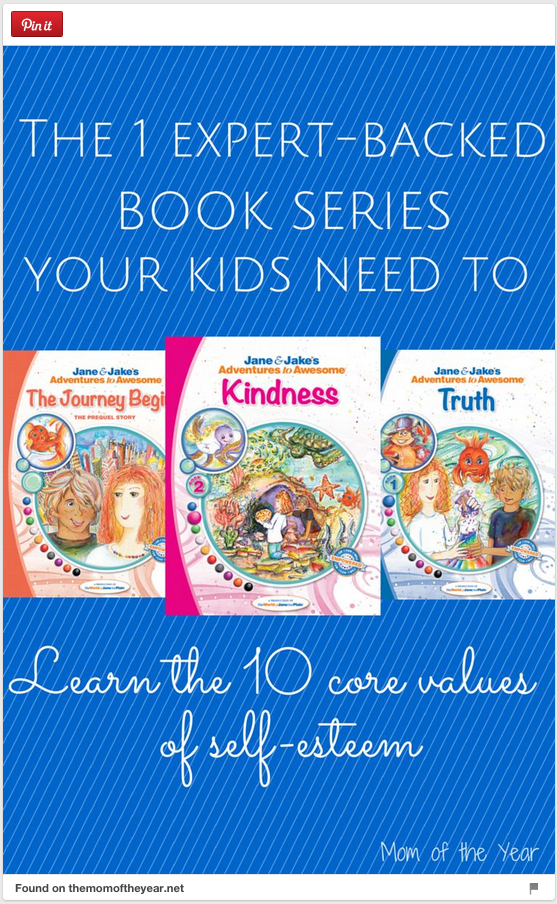 https://www.pinterest.com/pin/43910165093647442/
https://www.facebook.com/themomoftheyear/posts/920980087963916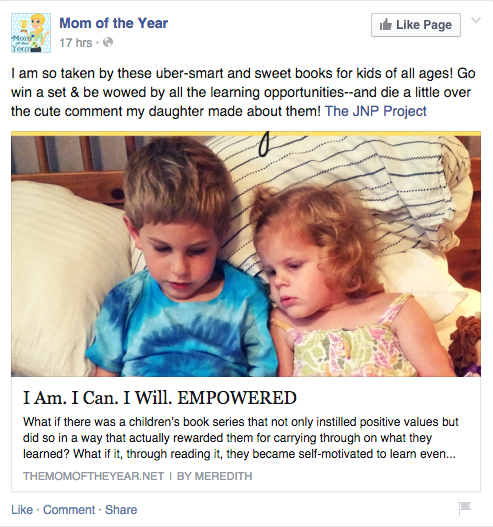 https://www.facebook.com/meredith.spidel/posts/495152197305103?pnref=story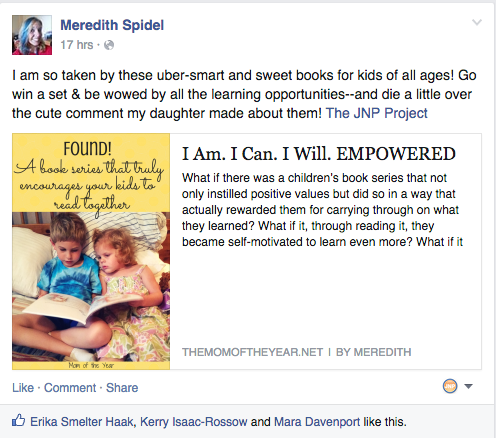 https://twitter.com/meredithspidel/status/613810783860887552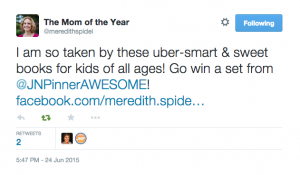 https://plus.google.com/b/101456832983207854332/+ThemomoftheyearNet/posts/hdY89Nmeyzw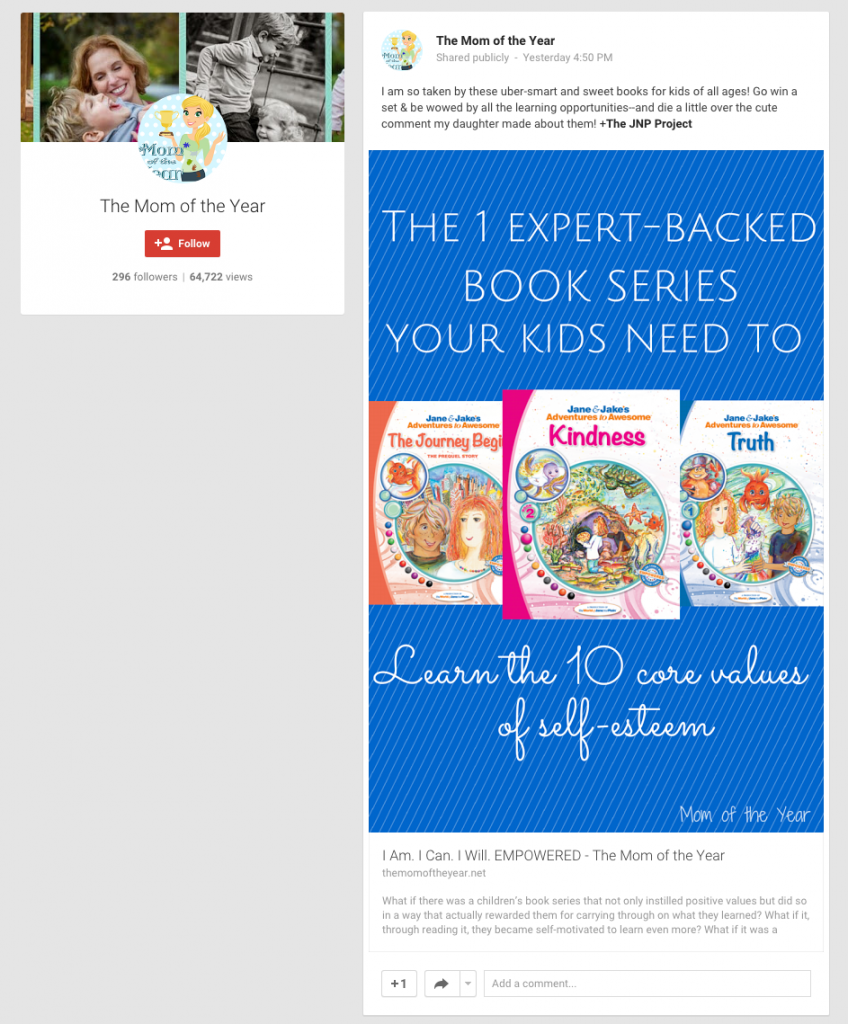 https://plus.google.com/+MeredithSpidel/posts/YCxY7nBoM3m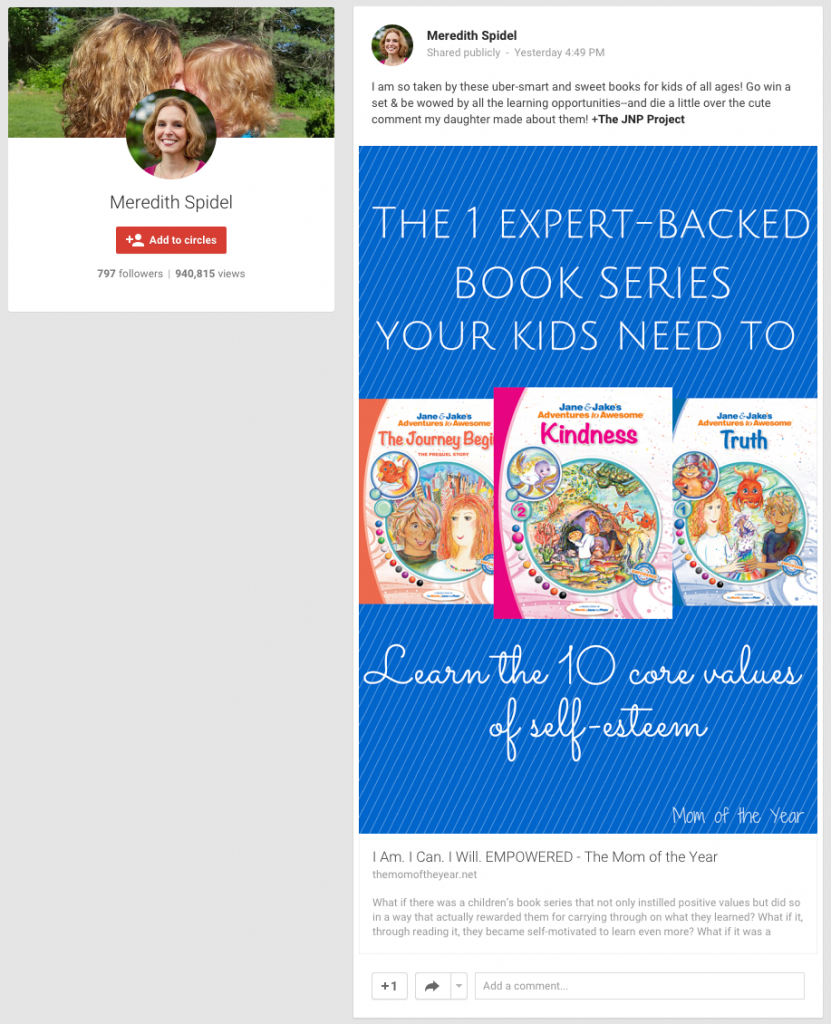 https://instagram.com/p/4U4CVyzZiO/?taken-by=meredithspidel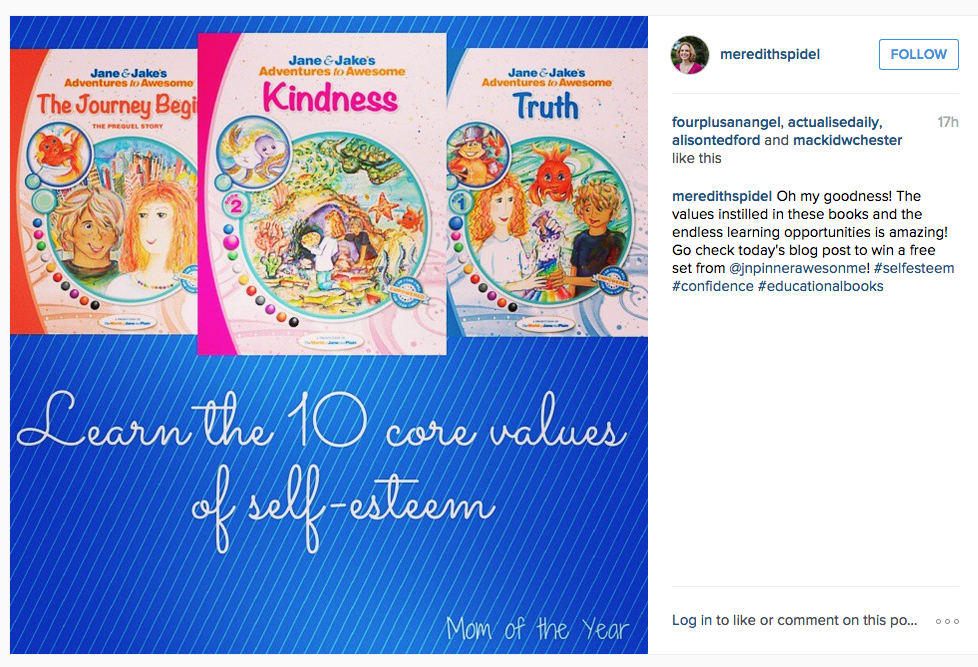 AND
Here are her reviews!
http://www.amazon.com/review/R2IBLX221EMZ5Q
http://www.amazon.com/review/RPE4OBFE2EVQI